Tales From The Borderlands - Episode 1 Zer0 Sum
Xbox One
2014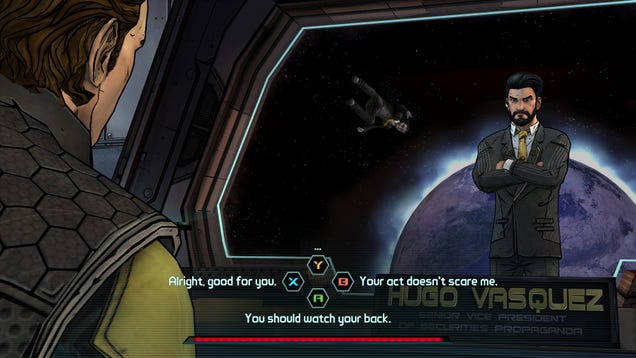 I was excited for this. I really enjoyed playing The Walking Dead Season Two and The Wolf Among Us. I been a real fan of the Borderlands series since the first title came out.
Thankfully it's still crazy old Pandora. You get to interact with psychos and bandits like you never could before. What's really interesting here is that you play two characters instead of one.
My only criticism is that once again this feels a lot more like a visual novel than a game. There's some points where you have to make some quick movements with the thumb stick and button mashing. I guess they decided to replace puzzles for story. I think that's fine and all but I know it'll turn some people off. You should know these games are a lot more about story than gameplay before spending a lot of money on them.
But as for myself I enjoyed this. And I'm looking forward to the next episode. The story and characters are interesting. The setting is great as well. Just know that this isn't a first person shooters like all the other Borderlands titles.
I give this episode a
8/10
.
Past Poopy Reviews
Shadows of the Empire (N64)
X-Change (PC)
Super Mario World (SNES)
The Walking Dead: Season Two Episode 2 A House Divided (Xbox 360 DLC)
Fire Emblem Awakening (3DS)
Grand Theft Auto 2 (GBC)
Operation Wolf (NES)
Borderlands 2 (Xbox 360)
Super Mario 64 (N64)
Borderlands (Xbox 360)
____________________