[• O F F I C I A L . P R O F I L E •]
--------------------------------------------------------------------------------------------
--------------------------------------------------------------------------------------------
[• W R E S T L E R ' S . A P P E A R A N C E •]
--------------------------------------------------------------------------------------------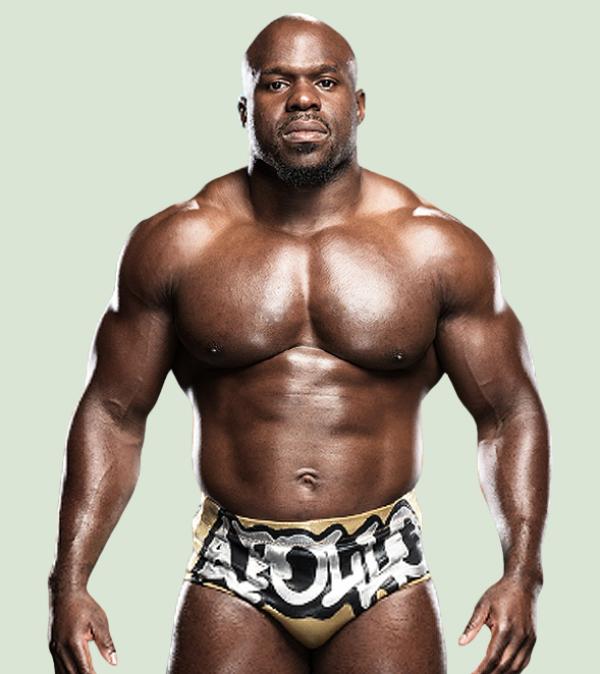 • Pictured As •
Apollo Crews
• Superstar Name •
Tayo
• Height •
6'9"
• Weight •
288 lbs
• D.O.B •
August 18, 1992 (age 25)
• Home •
Lagos, Nigeria
• Residence•
The Pits of Persia
• Alignment •
Heel
• Character Info •
Tayo is an androgynous heel who rarely shows any emotion yet displays a great deal of passion. Standing at nearly 7' tall, Tayo is a man whose body looks like a sculpture. Pristine with not a single hair on his chest, he is groomed to the finest detail. Tayo is said to be unlike any wrestler around, and although he draws comparison to Goldust; The Kind goes above and beyond with his quirks and kinks. He likes the idea of dominating his opponents and often uses this to his psychological advantage pre-match and even during matches. He is very suggestive with anyone who poses a threat and ironically uses his feminine wile to unsettle his adversaries. He fights for the ultimate possession, his opponent and will do his best to knock them out so that he may exit with them draped over his shoulder as a personal trophy. Tayo's sexual nature is motivated by his want to emasculate his opponents as opposed to his personal pleasure, he is a cold and callous warrior. He bathes in the ejaculation of his servants as he believes it is an excellent way to moisturise his skin.
• Nicknames •
"The Temptress"
"Persia's Ugliest Reality"
"The Kind"
(self-proclaimed)
• Entrance Music •• Entrance Description •
Entrance:
--------------------------------------------------------------------------------------------
• Fighting Style •
Powerhouse
Technical
Striker
[Kicks]
• Finishers •
"Kiss of Death"
Tayo french kisses his opponent and then wraps his legs around his foe's waist and applies the front facelook sleeper hold. A modified version sees Tayo from behind and approach the opponent with a Dragon Sleeper. Tayo believes that he is kind and does not wish to prolong his opponent's suffering so would rather knock them out.
• Signature Combinations•
Combination #1
Turnbuckle Powerbomb & Corner Spear. Tayo uses a Powerbomb to slam an opponent into the turnbuckles, before dashing towards the opposite ropes and rebounding to Spear his opponent into the turnbuckles again.
• Signature Moves •
"Persian Bomb"
Tayo uses a Powerbomb ans the opponent is slammed into the corner of the ring.
"Persian DDT"
A rope-hung DDT. While it is definitely a momentum-killing move, it's not a 'finisher.' The move is very effective in beatdown circumstances and stipulation matches, as Tayo uses the environment to his advantage.
"Big Boot"
The typical standing/running Big Boot. Only a signature move, as Tayo uses it to reclaim momentum in a match. Again, Tayo would most likely benefit from using this in an ambush scenario.
"Spinning Spinebuster"
Spinning Spinebuster. As an opponent approaches Tayo, the latter hoists his opponent as he turns 180° before driving the adversary spine-first into the canvas.
"Chokeslam"
A simple Chokeslam.
"Candour"
Tayo lifts opponent over his shoulder in an Oklahoma Slam position. Though rather than executing the Oklahoma Slam, Tayo drops his opponent from 6'7 onto their ribs.
• Basic Moveset •
Atomic Drop
Belly-to-Belly Suplex
Clothesline
Corkscrew Moonsault
Corner clothesline
Double knee gutbuster
Elbow Strikes
European uppercut
Fallaway Slam
Falling clothesline
Flapjack
Forearm Strike
Front Powerslam
German Suplex
Inverted Atomic Drop
Inverted headlock Backbreaker
Leaping knee drop
Knee Smash
Roundhouse Kick
Running Senton
Sitout shoulder jawbreaker
Slap
Stomp
Swinging neckbreaker
Two-handed Chokelift
Uranage Sideslam
Vertical Suplex
--------------------------------------------------------------------------------------------
[• C H A M P I O N S H I P S . H E L D •]

--------------------------------------------------------------------------------------------
NOTHING
Won: ~ Lost:
DATE
--------------------------------------------------------------------------------------------
--------------------------------------------------------------------------------------------
[• X W A . R E C O R D •]